Fr. Kevin Carroll:
the Center of Oye Ekiti


In her book, Other Peoples' Worlds, Naomi Mitchison wrote:



'Mission schools have tended to lag, making do with old pictures and old texts, influencing young minds towards their standards. Yet there is a superb carved wooden door in the Roman Catholic Church at Ibadan. Rows of squat, dark, almost ugly yet strangely impressive figures perform their ritual actions. Mary pounds fufu among her father's hens as the angel approaches. The disciples and the ass's colt of Palm Sunday are clearly recognizable yet different. The door is made by Yoruba craftsmen, and clearly there is a great tradition of door carving. How did it happen?'

---
Hundreds of Carvings
---
The door produced by Lamidi Fakeye in 1954 is one example of some hundreds of carvings produced by a group of carvers who have, since 1947, been directing their traditional skill to new purposes. In this book I intend to describe the work of several of these carvers and of others who have worked in Nigeria or Dahomey during the last seventy years, relating their work to its environment as it changes from the closed community life of the last century to the wide-eyed and turbulent life of today.

---
A Center to study
---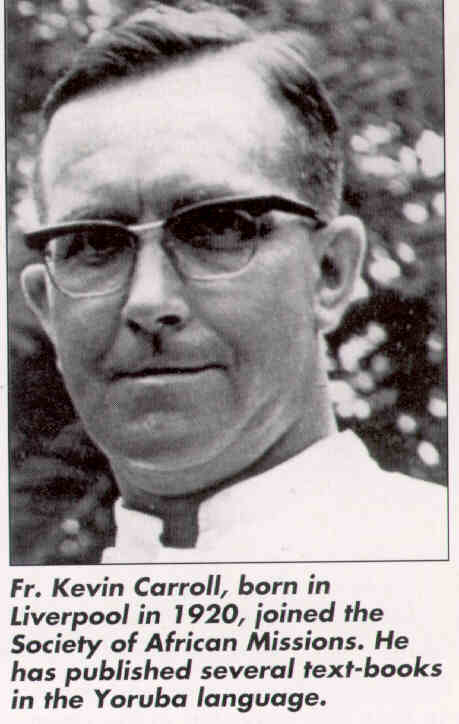 In 1946, Father Patrick Kelly, Provincial Superior of the Irish Province of the Society of African Missions, decided to establish a center to study, among other things, the adaptation of African crafts to Christian uses, and to experiment in this field. Early in 1947, he chose a small town in north-east Yoruba country named Oye Ekiti as the site of this center.
When Father Sean O'Mahoney and I had settled in the town we soon became conscious of the pagan liturgical year, for everyone - Pagan, Christian and Moslem - was familiar with it and could describe it in detail.

---
Skilled in crafts
---
Early in 1947 we began to employ men and women who were skilled in the various crafts. The women wove ornamental cloths for church fabrics on their upright broadlooms, using African techniques and patterns. The men worked on their narrow looms to produce the more difficult patterns required for orphreys. We also engaged beadworkers eatherworkers and woodcarvers.
Johnson Esan, the first carver who worked for us, came from Orin about eight miles away. He had carved 'angels' for Monsignor Julius Onih, one of the first Yoruba Catholic priests. We found Esan's work to be of poor quality by Yoruba standards. We also asked a young carver known as Sam, a native of Efon Alaye to carve for us, but his father died and he soon had to return home. Then Bandele presented himself for work. He is the son of one of the greatest known African carvers, Areogun of Osi florid who died in 1954. Bandele was at that time in his late thirties. Now, nineteen years later, he is still working for me and I will describe his work in some detail.

---
Bandele's history
---
Bandele was a Catholic, baptized 'George' by Monsignor Onih, but he had little knowledge of the Catholic religion. He came to church on some of the bigger feast days—if not otherwise occupied. The first work we asked him to make was a Madonna and child because mother and child carvings are common in Yoruba tradition. I suggested that the figure be dressed in the long dress and veil such as nuns wear. Whether or not we should have asked him to carve Mary like any other Yoruba woman is discussed in another context. Bandele produced a poor and indecisive work.
A second attempt was no better and several trials were made before we had any success. The break-through came when we tried a different approach.
---
The Christmas Crib
---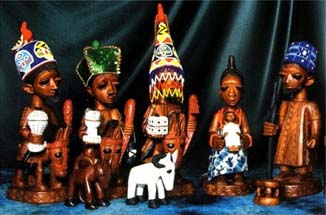 Bandele was asked to carve a Christmas crib set with the figures of Mary and child, Joseph and the wise men. He was to start with the wise men represented according to the apocryphal tradition as three kings. The kings were to be carved like the kings in Yoruba house-posts. Bandele produced three kings in a firm Yoruba style, and then carved the Christian figures in the same style. Various other works followed—further crib—sets for local churches, large figures for outdoor shrines, crucifixes and stations of the cross (these are sets of fourteen panels relating the Passion of Christ). We would ask a Christian to tell the stories to Bandele and would then discuss the details of the carving with him - Us it was not possible to leave him entirely to his own resources. For example, Bandele suggested that he should represent screws in the crucifix rather than nails as they were stronger.

---
We need African religious thinkers
---
Emile Male, great expert on the Christian Gothic art of Europe, has written: 'When iconography is transformed, when art adapts new themes it is because a thinker has collaborated with the artists. Suger was one of these men who set art on new ways....' In our own smaller way we tried to repeat the influence of a Suger, although the full flowering of African Christian art will require tile guidance of African religious thinkers.

Kevin Carroll, Yoruba Religious Carving, London, 1967.




SMA's Web Site - The Society of African Missions - Tenafly, N.J. USA
Reproduction in whole or in part without express written permission is prohibited.

Copyright © 2002 SMA - All rights reserved